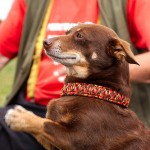 Welcome to join the Swedish Lancashire Heeler Club, the SLHK

Members will have:
– Our digital club magazine 6 times per year
– Online support on our website and from our puppy coordinator when purchasing a Lancashire Heeler Puppy

You will also gain access to:
– Shows
– Other competitions
– Temperament tests
– Lectures
– Members meetings
– Our yearly Heeler of the Year competition – both show and working
Membership fees:
– Single Adult Membership 250 SEK per person per year.
– Family Membership for other persons in the household 50 SEK per person per year.
– Membership of the SLHK runs for a period of 12 months from date of payment.
– Membership renewal invoice is sent out by our treasurer every year, please make sure that you have handed in your contact details by filling out the form below.
Members from abroad:
– Please note the following information on Swift/ BIC, IBAN etc and then please fill out the form below!
– Swift/BIC: SWEDSESS (Bank: Swedbank)
– IBAN: SE4880000000071331252326
– Please do not forget name, full address and email!
If you have any questions concerning your membership and payment:

– Please contact the treasurer on email kassoren@lancashireheeler.se
/Chairperson Susanne Nilsson O